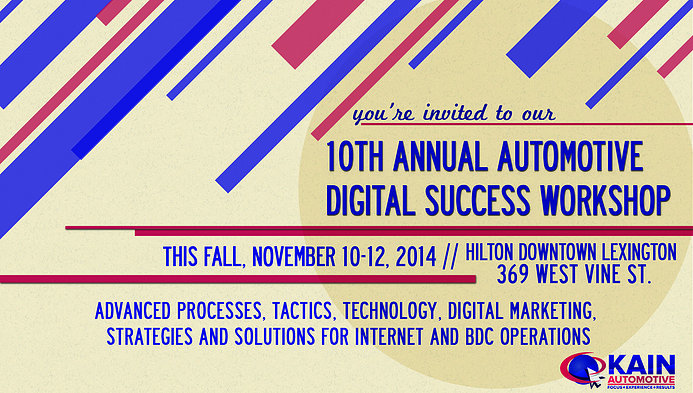 10th Annual Kain Conference
or 10th Annual David Kain Conference or 10th Annual Automotive Digital Success Workshop or 10th Annual KainAutomotive Digital Success Clients & Friends Workshop!
No matter what you want to call it, It's going to be a great one!
Not only with the HookLogic team be in attendance be we are also a Title Sponsor. It's hard not to sponsor such a great event.
The "Workshop" will consist of Advanced Processes, Tactics, Technology, Digital Marketing Strategies and Solutions for Internet / BDC Operations
Accelerate your internet sales performance beyond the basics through proven practices, cutting edge strategies and techniques that will differentiate your operation from your competitors. Learn how to build on your Internet / BDC operations blueprint and accelerate your performance, regardless of your level of experience. You'll come away knowing how to achieve internet market leadership through a mix of tried and true techniques along with the unique and speculative Break-out of your comfort zone and leverage your abilities to serve your customers beyond their wildest expectations and enchant them with how you do business.
SCHEDULED SPEAKERS:
Each year David Kain hand selects the best speakers to present and this year is absolutely no exception!
David Pyle - Senior VP of Sales - Autotrader & KBB
Bill Wittenmyer - Partner - ELEAD1ONE
Amir Amirrezvani - Co-Founder - DealerOn
Dave Hoffman - Account Manager - Google
Alex Vetter - Senior VP - Cars.com
Jon Ferrara - CEO - Nimble CRM
Christian Salazar - National Sales Director - Dealer Fire
Jon Budd - Senior Group Manager - New Media - Hyundai Motor America
Mike Berg - Manager of SaleMove - Autobytel
Gary Bang - VP & GM of Tampa Harley Group
Dean Evans - CEO - LotLinx
Jason Wiley - Director of Sales - Haystak Digital
David Metter - President - HookLogic
Ricky Lopez - Ecommerce Director of Crown Automotive Group
Beth Walter - Regional Sales Manager - L2TMedia
Ali Mendiola - Business Development Manager, Digital Retailing - Dealertrack
Jonathan Wolske - Culture Evangelist - Zappos.com
Todd Levy - Sr. Acct. Executive, Automotive - Twitter
Patrick Workman - Client Partner, Global Marketing Solutions - Facebook
John Gottschalk - Senior Vice President of Customer Engagement - FordDirect
Tracy Myers - Owner - Frank Myers Auto Maxx
Todd Smith - CEO - ActivEngage
Jeremy Anspach - CEO - PureCars
Mike Haeg - Director of Business Development - Century Interactive
John Malishenko - COO - Germain Motor Company
Nick Holliday - Area Manager - 22squared
Ian Cruickshank - VP of Sales - Speed Shift Media
Plus a Dealer Panel & Fundamentals Workshops by The Kain Automotive Training Team!
SCHEDULE OF EVENTS
Registration will start at 11:00 am on November 10th and the Workshop will conclude at 3:30 pm on November 12th. Official Agenda will be released this week!
Event Sponsors Featured in the Vendors Showcase will be announced soon!
DO NOT miss out on this amazing opportunity to help your business excel through the latest Advanced Tactics, Digital Marketing Strategies, and Technologies that you can put to use immediately!
We hope to see you there!